Facebook Advertising for Movers
Privacy concerns, political scandal, senate hearings and broken promises. If we told you that a company that's dealt with all of those issues in the past 4-6 months was your best bet for moving leads you might think we were crazy. That is until we mention that the name of that company is Facebook. Yes, despite the controversy lately, advertisers are sticking with Facebook. Why? The answer is simple: it works.
You're probably wondering to yourself how a platform that has been gaining so much bad press lately could still be trending in the right direction. Maybe people don't believe everything they hear after all, maybe it's not of concern to most Americans, maybe there's just no better place to show off selfies. Whatever the reason, Facebook has reported a 63% profit increase year-over-year within the first three months of 2018, seeing as most of that is from ads, its apparent that a lot of businesses around the world still see a lot of value in Facebook advertising for business. Why should you care though? What can Facebook do to help your moving business? Again, a simple answer: a lot.
Facebook Marketing for Moving Companies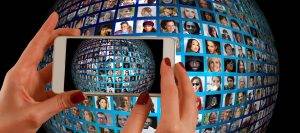 Aside from Google, Facebook is the world's second largest digital publisher with more than 1.45 billion users checking their accounts daily. This increase in activity translates into more eyeballs on advertisements. In fact, the company took in 17 percent of total online spending in 2017, a number that results in nearly $40 billion dollars for Facebook.
Advertising has proven to be the monolith's largest sources of income. But how does Facebook do it? They collect information on what their 2.2 billion users like, share and comment on. This provides advertisers with an unfettered opportunity to hone in on specific individuals who can benefit from certain products. For movers, this means that your Facebook advertising for movers can be targeted directly to people who have expressed interest in moving services on Facebook and other platforms. Facebook isn't search-based like Google or Bing advertising. So instead of bidding on keywords and having your ads show up next to all the other movers who have bid on the same keywords, you can show your ads to people in your local area who have visited your site or engaged with you on social media. This increases conversion rates and return on ad spend (ROAS) in a way that other ad platforms can't. This type of precision targeting is one of its greatest benefits, but Facebook has other advantages, too.
How to Advertise on Facebook for Free
Another valuable facet Facebook offers advertisers is the ability to engage directly with their target audience and get immediate feedback. Facebook marketing agencies call this organic social media marketing, which basically means advertising on Facebook for free. People like to go online and discuss products and services they've had experience with and Facebook is the number one place that people choose to use for this purpose. This gives companies a glimpse at the reception of their services almost instantaneously and allows them to engage with the individuals who are providing the feedback. This instant gratification can play to the advantage of moving companies advertising on Facebook, as they can address any concerns or complaints directly. Moving companies that actively engage with their past and potential customers on Facebook have a better reputation, which leads to more positive brand recognition. By responding to issues on Facebook, you increase your engagement and recognition in the community. So, when you make a new post there are now more people who have the potential to see it and those people will already have a favorable opinion of your business.
While some may question the future outlook of Facebook advertising, right now the company is seeing an increase in its popularity. It's ability to offer moving companies refined advertisements, feedback to customer reviews and a network of referrals is keeping the giant afloat.