Free Advertising For Moving Companies Begins With The Website
Free advertising is out there. It just takes some work to get it. The amount of work depends on the amount of time you have to spend on it.
Putting more money on your credit card on file with Google takes just a few seconds… and it does work (given a good offer and a good Quality Score on your landing page… but that's another blog). The only problem with Google AdWords is that it is TRANSACTIONAL advertising and it will disappear as soon as the money on your credit card is spent.
If you feed the machine, the leads will come in. The minute you stop feeding Google, your leads stop. And depending on what other movers in your market are bidding on Google, these clicks can be mighty expensive. So, if you have no website strategy for free leads, you must always plan on advertising on Google.
So how about that "free" advertising? It's there, but are you willing to put in the time?
Where to start to get free advertising for your moving company:
You know more about moving than anybody. You certainly know more than any customer that is in the market to move. So tell them how much you know and by doing so, help them with their move. They don't know about insurance and who's licensed and why it's important. These would be valuable blog topics for your potential customers. If they read your blog and see that you know your business, they'll probably contact you first.
If your website is not generating a substantial number of leads monthly for you, it needs some surgery. A user-friendly website with an easy to use form to request an "in-home" appointment is another way to get free advertising and snag a lead. And don't forget, when you spend your money on your website instead of Google you are investing in your moving company's future. You are creating an annuity for your moving company as the website leads continue to come in without spending any more money on Daily Budgets like on Google AdWords. It all begins with a website following a "sales funnel" strategy.
Are you active in your local Chamber of Commerce? Just think of all the business moves happening every year with your Chamber members, and just think of all the people they know and talk to.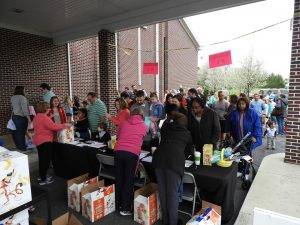 We had an agent that was contacted by ABC7 in Detroit to pick up school supplies that had been donated and dropped off at multiple locations throughout the vast Detroit Metro. Our client, Stevens Moving & Storage of Detroit, picked up all the articles and delivered them to the Detroit Public Schools Central Warehouse. ABC7 featured them on all of their newscasts for several days mentioning their name and showing pictures of their trucks… lots of free advertising.
Public Service Campaigns:
Watch the news. See what is happening in the charity and public service space. Trucks are always needed. If you have spare capacity, it's free for you, so volunteer and help get some more free advertising. Added bonus: Once you do this, you'll get a reputation as a good community servant and will be offered more chances for free advertising. It will have a multiplying effect that will multiply your sales.
We're sure that you have more great ideas for free advertising, so please leave them in the Comments below for others to see and read. Here's to great sales!