Why You Should Choose a No Contract SEO Company
Deciding on an SEO agency can be a difficult choice. There is a lot of pressure to make the right choice in choosing your source for acquiring online leads. Just like choosing the right salesman can be important to getting a lot of revenue, having a successful optimization strategy for your moving company can make you a major competitor in your market.
However, the choice for an SEO company can be intimidating. Giving a company control of uploading content to your website or hosting your email makes you heavily dependable on your agency. That is why it is important to be very thorough when you choose a company to perform SEO services for you. Eliminate risk by avoiding long-term contracts. Read more about how you can avoid getting yourself into a bad or an extended contract with your SEO firm.
Why should I avoid signing into a year-long SEO contract?
There's nothing wrong with signing into a long-term deal with an SEO firm you already have a relationship with. But it might not be wise to sign into a year-long deal with a company you've just been talking to within the past week. You might hear pushback from SEO companies that it takes "time to develop an SEO strategy" or it's difficult to show immediate results. And while it does on average take 4-6 months to begin showing progress you should notice increased business if you have never paid for services like these before. But regardless of the length of time, before your site has page rank, you still should be free to cancel.
How do I get out a bad SEO contract?
If you signed into a long-term SEO contract then you may or may not be able to cancel as you wish to. There are SEO companies that keep your content, passwords and accounts hostage when you want to leave mid-contract. Avoid breaking your contract by following these steps:
Reread your contract with your SEO company and look for clauses or shortcomings the company hasn't delivered on. If you discover a loophole use it to your advantage. Own your site.
Have a meeting. Getting your grievances out in the open lets your agency know that the pressure is on for results.
Ask for an SEO report. This will help you ask about the history and what has not worked in the past. Get details and explanation of prior actions.
Request an SEO strategy. Engaging with them about a strategy will show allegiance and trust if you decide to continue your relationship if you see improvements. If you do not see improvements, developing a marketing strategy in this manner will give you grounds to leave your SEO firm if they continue to underperform.
Ask for credentials and account passwords. If you are still considering leaving this is a great way to make sure that you have a more seamless transition between your current and next marketing firm.
Month-to-Month SEO contract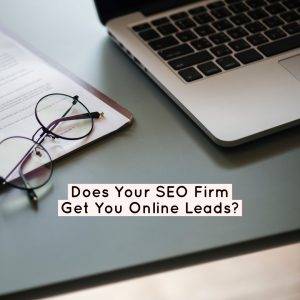 As a moving company in the digital age we know you can choose between thousands of agencies to provide SEO services. We have heard stories from our new clients about how they have signed into year-long agreements and ended up unhappy with their results. Avoid doing this. "Subscribe" to your next agency. Look for agencies that work month to month with a subscription.
Just like an Amazon or Netflix account you should be getting immediate benefits from your account. When you subscribe you want to watch shows or order with free delivery. With agencies that charge monthly, you should expect that kind of service. That is because you give your SEO company a short, but substantial window to prove their mettle. A month or two is a long enough time to see if your "agency subscription" has increased your leads or you find your ROI is not worth the cost.
So why can't it be the same for your SEO firm?