GOOGLE MY BUSINESS–NEW QUOTE FEATURE
It's in Beta testing now but already three of our moving clients are in the test phase on their sites of this new Google My Business (GMB) page feature. Here are the pros and cons:
1. "REQUEST A QUOTE" BUTTON: This is a new feature that appears high up on the page and runs the full width of the page in blue. Take a look at MyGuysMovingRVA.com or ApexMovers.com to get a glimpse.
2. A notification is sent to the Primary Owner's Gmail account and the messages can be accessed on the Google My Business dashboard via desktop or through the GMB app on mobile.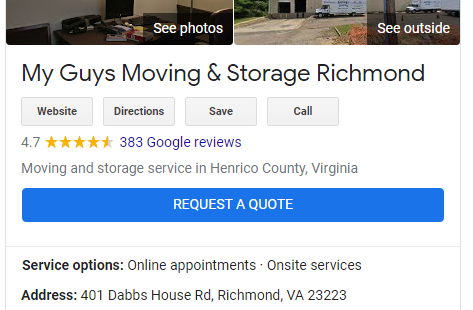 3. The questions or fields on the form developed by Google are limited to:
Service Type: local, out of state, packing, etc.
When
Details
Phone number
4. This is one more place to watch for leads, and may not be integrated into your CRM.
5. It does not trigger your website's auto-responder, but the customer gets a message from Google that the request form was submitted.
6. The quality of your GMB page is now more important than ever as the prospect may never click on your website.
This is just one of the new features from GMB. We'll look at more next time.
Onward and upward!
For more information: Our Discounted Trial Offer on SEO begins at 50% Off. Learn More. Contact Us Today