MOVING COMPANIES SHOULD MOVE TOWARD MORE STORAGE IN 2021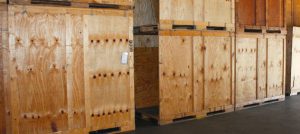 Once there were passenger cars on railroad trains. Once there were daily newspapers in every town. Once upon a time, there were even stock brokers.
Now, we're not going to say they are all gone forever, but for the most part, they are no longer relevant. So what about moving companies?
It's been a great year for most movers. The pandemic did shift a lot of the moves back a month or two, but most of you saw good revenue well into the fourth quarter…in some cases even record revenue.
So why should you give up on the moving side of the business in favor of the storage side? You shouldn't. That is not our recommendation.
But we do recommend that you dramatically increase your investment in your storage business. Storage is a great profit center, and its cost to operate is generally far less than the moving side.
Look at the new landscape:
SELF STORAGE

: These operations are opening literally everywhere, and in many instances the building is five stories tall. Public Storage Company is so successful that it has made a billionaire out of Tamara Gustavson, now the richest woman in Kentucky at $4.6B. And, she only owns 11% of the company! Add to that all of the new locations of "1-800-Self-Storage" and you can see the storage landscape is rapidly changing.
Do most of you compete with a self-storage operation? No. But some of these prospects might consider warehouse storage instead if they knew about it and you were competitive.
In addition, many of you might want to invest in a self-storage operation as well. All of our clients have done so and are sold-out, and counting their money. The overhead is minimal.
MORE WAREHOUSES:

We see many of our clients rushing to increase their warehouse space. It may be a leap of faith, but none of them have had great difficulty filling the new space.
50,000 SQUARE FEET OPTIMAL:

Once you can deliver on this size of space you open your business up to internet-based companies that will book business with you for their clients who need storage. One of our clients even warehouses for LG Appliances and even provides space for them to do demos as needed.
CHANGE OF HOME LOCATION:

The new research says the average move is now every 10 years, down from every 7 years just a decade ago. There is much less Corporate Relocation business too. We all know that.
PANDEMIC-RELATED MOVING:

Now many of you are benefiting from people fleeing metro areas in favor of suburbs, exburbs and the country. This may be providing much of the demand right now, but will it last? Probably not.
HIRING DRIVERS AND CREW:

This is the constant battle cry of all moving companies we consult and talk to. "Where can I get employees, especially employees I feel comfortable putting in customer's homes during move days." We hear it over and over. Not a big issue on the Storage side of the business.
THINKING "OUTSIDE THE BOX": It's such a cliche that I hesitate to even mention it, but maybe it's just what we need right now as we begin 2021. Many of our clients are already adding to warehouse space…some in a very big way. We think that's the future. Not that moving will ever go away, but Storage could provide you the better profit you need to keep the lights on, as well as be more competitive on the moving side of the business.
So, maybe we need to really be bold and consider a rearrangement of our brand names: MY TOWN STORAGE AND MOVING COMPANY. Does that now make more sense?
SHOUT OUT! Congratulations to The Wheaton Group on their annual SUMMIT that is now in progress online. Here's to continued success!