Moving Leads
The moving and storage industry is fiercely competitive, which is why acquiring moving leads is so vital to keeping your company profitable. With our lead generation strategy, we will help turn your website into a lead generation tool so you never have to buy another list again!
We optimize websites to help provide moving leads to our clients every day. Our dedicated SEO and marketing strategies are tailor-made for their individual needs. As a moving leads expert since 2010, we have seen this industry change and have always stayed ahead of the curve. We follow emerging trends and transform our strategy to push current best practices.
Your Moving Company Marketing Strategy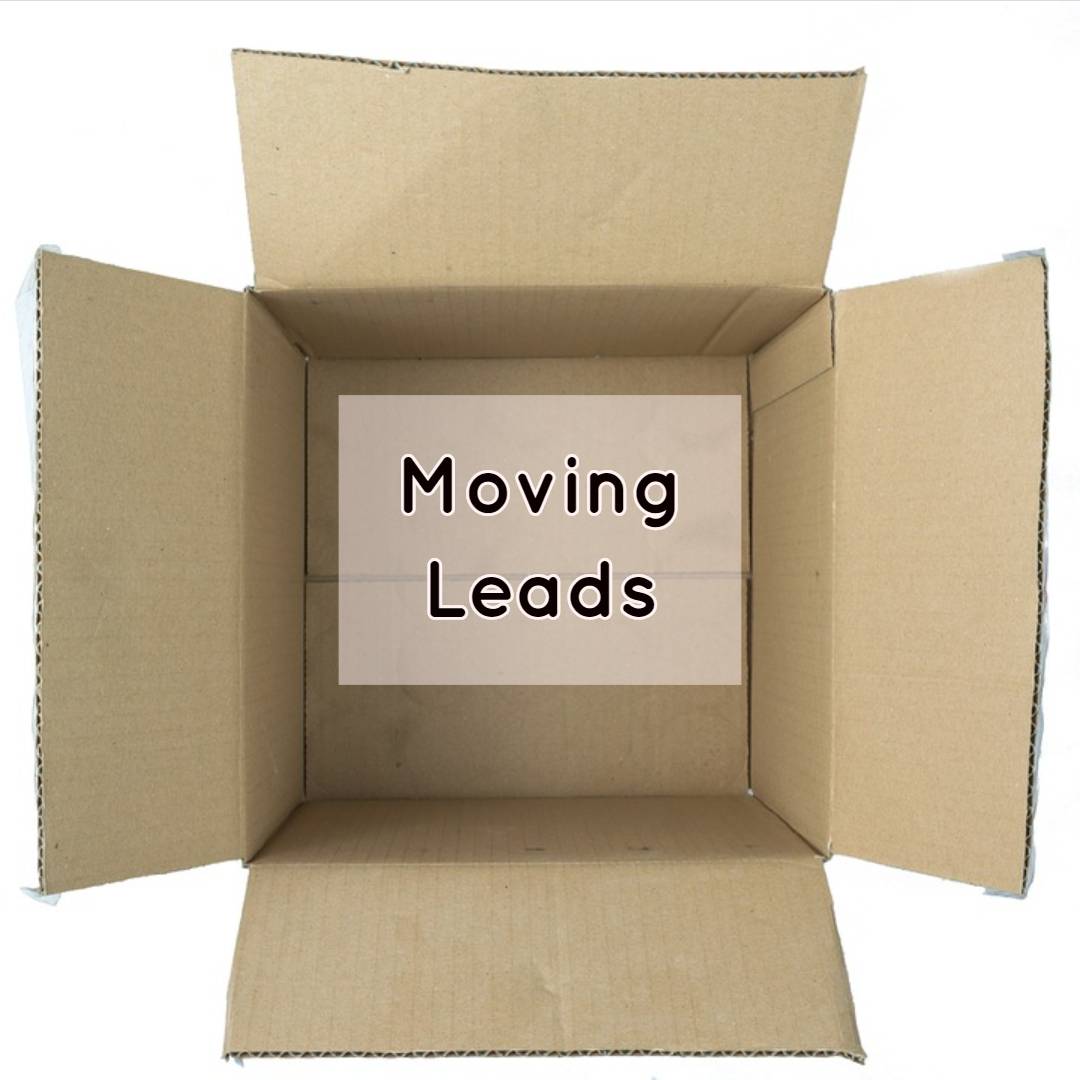 Your strategy starts with your business. There are some questions you need to ask yourself that determine how you should position your site in your local market. These questions can include, but are not limited to:
Do we perform local moves?
Do we perform long-distance moves?
Do we perform international moves?
Do we provide storage services?
Do we accept requests for specialty jobs (wine cellars, motorcycles, hot tub etc.)?
Do we provide packing, loading or unloading services?
Do we perform in-house moves for specialty items (gun safes, pool tables, pianos etc.)?
These are the kind of questions that your potential customers want to know about your moving company. You need to promote these services on your website.
Should I Buy Moving Leads?
The short answer: No.
Movers face the challenge of whether they should buy leads or find them organically. Organic leads are the best leads. They are more highly qualified, and you don't have to pay a third party for leads being fought over by three to four other companies.
In a business like moving, buying leads can be a costly mistake. What seems like a short-term gain can translate to a long-term loss.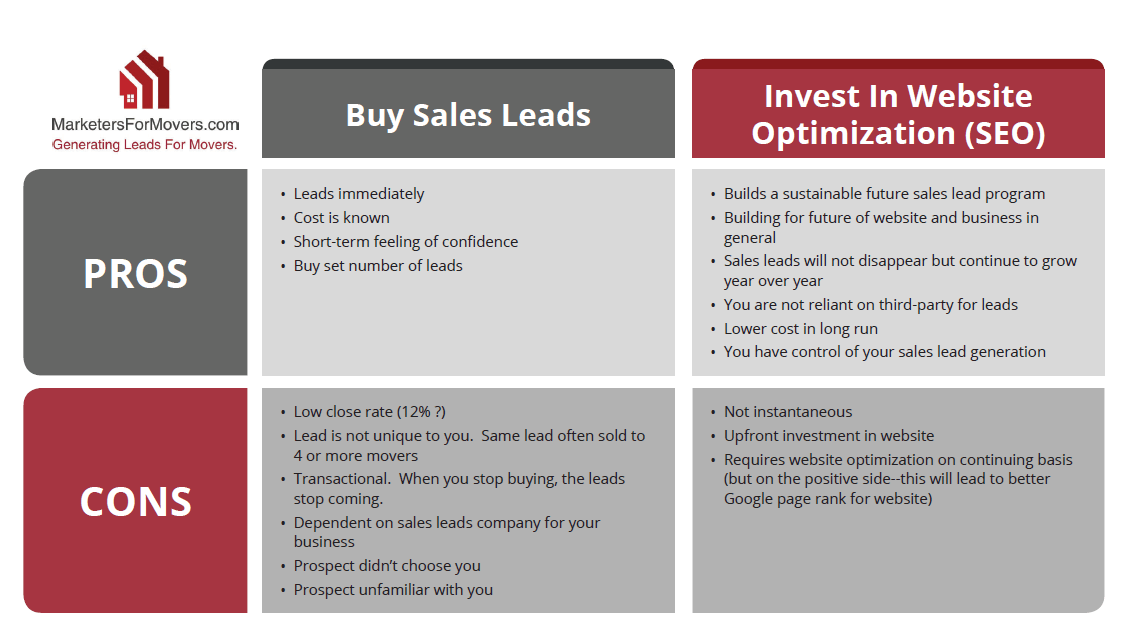 Moving companies have customers that are in demand of a service for a specific time and location. If a customer is not in your service location or they no longer need your service, then this purchased moving lead is useless.
For example, Mark wants to move from his home in Cincinnati, OH to Columbus, OH on October 15th. If you receive this lead on October 30th and your moving business is in Cleveland, then this lead becomes worthless. You might have Mark's contact information, but Mark is not interested in moving now.
That is why we always recommend our clients to win leads for moving companies, instead of paying for them. Instead of paying for costly leads with a low closing rate we recommend following our moving company marketing strategy:
Develop maintain and optimize websites for keywords
Perform social media
Create content marketing pieces
These three tips will help directly invest into growing your organic ranking and invest directly into your company's future. Put stock in your moving company marketing strategy and watch the benefits yield.
Lead Generation and Marketing for Moving Companies
You might think "What do I do when it comes to getting moving leads?" Our dedicated team has a proven strategy for getting moving leads. Our approach has been tested and perfected to generate sales leads to help your company thrive. Don't just budget ways to buy more moving leads, grow them. As a moving leads provider we know how to develop high-quality moving leads. We have a proven system that our clients in the industry will vouch for.
Moving Leads Service Package
Would you like more information on how perform marketing for moving companies? Check out these links below and see how our list of services we provide for our clients:
Proven Moving Leads Provider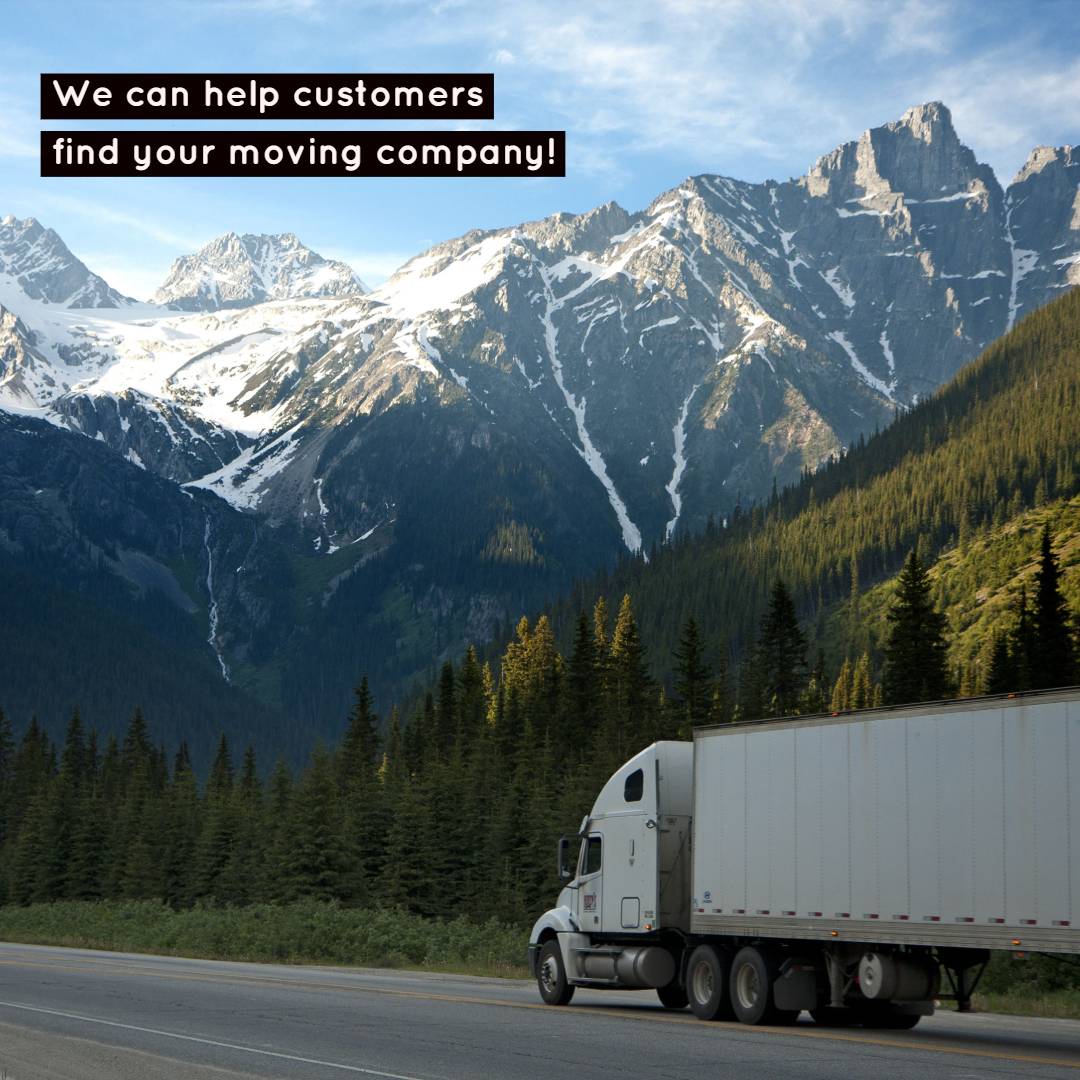 As a moving leads provider we know what it takes to build a successful lead generation for your moving and storage business. Our lead generation services have been trusted by dozens of our moving clients large and small, across the nation. On average, our moving company marketing strategy has led our clients to experience a 177% increase in sales. The best part is that this increase in sales all happens within the first year of implementing our lead generation services.
If you need more business then lead generation marketing for moving companies might be the right idea. Our Moving leads generation package has everything you need to position your site to reach Page One of Google. Contact a moving leads provider that has the experience you need. Generate sales by growing your moving leads with us today.
FAQs:
What's the best way to get moving leads? The best quality leads are the ones you don't have to pay for. Buying leads from a lead aggregator usually have a 3% close rate. That's why our marketing strategies—through SEO, updated web design, and content marketing—are a better route. Our clients have seen an increase of 177% in sales once they sign on with us.
What type of moving leads are the best? The ones that are, in essence, free, but require some work on your end. That includes creating a credible online presence that will launch your website to the top of the search results. While buying leads from lead aggregators is a fast fix, it won't help your business in the long run. Focusing on bringing in organic traffic will set up your business for success down the road.