VIDEO MARKETING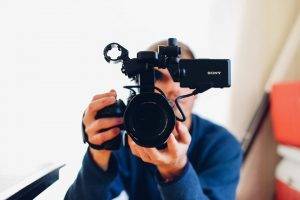 You've probably heard the expression "video is king". What does that mean? We've watched video content grow exponentially over the last four years, and today it is the topmost consumed media online. To talk numbers, globally, video content and video marketing make up over 75% of all internet traffic.
On the social media side, Facebook reported it gets around 8 billion video views a day. And YouTube is the second most popular website after Google.
Another mind-boggling statistic is that companies using video enjoy 41% more traffic on their websites than companies that don't utilize videos.
That means if you're not producing video content, you might not be getting the results that you could be getting out of your website. But there's good news: the new Online Video Marketing Studio at Marketers for Movers can help bring you up-to-speed and into the era of online video marketing.
Coming up with a video marketing strategy is no walk in the park, either — especially for moving companies. Trying to create a video marketing campaign with no experience and attempting to identify your target audience is hard. Since 2009, Marketers for Movers have been at the forefront of coming up with the best digital marketing video strategies for our clients, and we would love to do the same for you.
Check out some examples of our own video marketing:
WHY YOU SHOULD HAVE AN ONLINE VIDEO MARKETING PLAN
If you aren't impressed by the numbers in the first couple of paragraphs, here are some more reasons you should be creating video content. Let's lay down the facts:
EXPLAINER VIDEO MARKETING: THE 90 SECOND STRATEGY
Today, the media that helps build the most trust between your brand and your potential customers will always give the highest return on investment (ROI). An explainer video is the best way to do this. Viewers connect with personalities on the screen, and they trust the experts on camera to lead them to make the best choice. And you must do this in less than two minutes. How is that for a challenge?
We have developed a 90-second explainer video structure to complement your online blog content and moving information pages so that you can connect with the right customers. We know how search engines love video. By signing up for explainer video content through our in-house video studio, you put yourself in a position to see your sales leads sky-rocket and watch your SEO get a massive boost.
WHY EXPLAINER VIDEO MARKETING?
In today's competitive media space, you have no more than 10 seconds to hook your viewer and convince them that your video is going to layout a relatable problem and provide a solution. The two-minute mark is when studies show that viewer attention severely drops if they even get past the first 10 seconds. Therefore, the Marketers for Movers Explainer Video Marketing Team will develop a plan to create branded video content for your company that clocks in at under two minutes, so you can be sure your videos will deliver their point and help you drive sales leads.

Consumers today want to interact with companies who not only provide a service, but they understand why their consumers need it. Explainer video marketing content will help build trust and recognition in the prospects, helping them to recognize that your moving company understands their specific needs. Having been in the business since 2010, Marketers for Movers understands what strategy works for moving companies and how that will translate. We will write tips and tricks videos and deliver informative yet simple videos that state exactly what your potential customer wants to know about your company. If you want to know more about our Explainer Video Marketing Studio and services, please contact us today for an audit of your website and content needs.
FAQs:
What are video marketing benefits? Studies have shown time and time again that having video content on your website increases ROI and helps you rank higher on Google. They're a great way to hook customers.
How can I get started with video marketing? At Marketers For Movers, we'll sit down with you to discuss the best ways to shoot video and get that up on your website. We have state-of-the-art equipment to shoot and edit videos right in our office. We'll discuss your goals and what your vision is for a video.