Web Design and SEO for Moving Startups
Our goal is to help movers reach potential customers. This is especially challenging for moving companies that have yet to carve out a market share in the digital space of their market. That's where Marketers for Movers comes in. While you may not be at a point where you can have a marketing agency on retainer, we have one-off services that allow you to improve your online presence and get more moving leads.
Homepage Optimization
The Homepage is your storefront. It's the first thing potential clients see when they come onto your site. Not only does this need to be optimized for Google, but it needs to be easy-to-use while providing all of the necessary information for a user, all while keeping them engaged. It's a challenge, which is why we offer our expert Homepage Optimization service: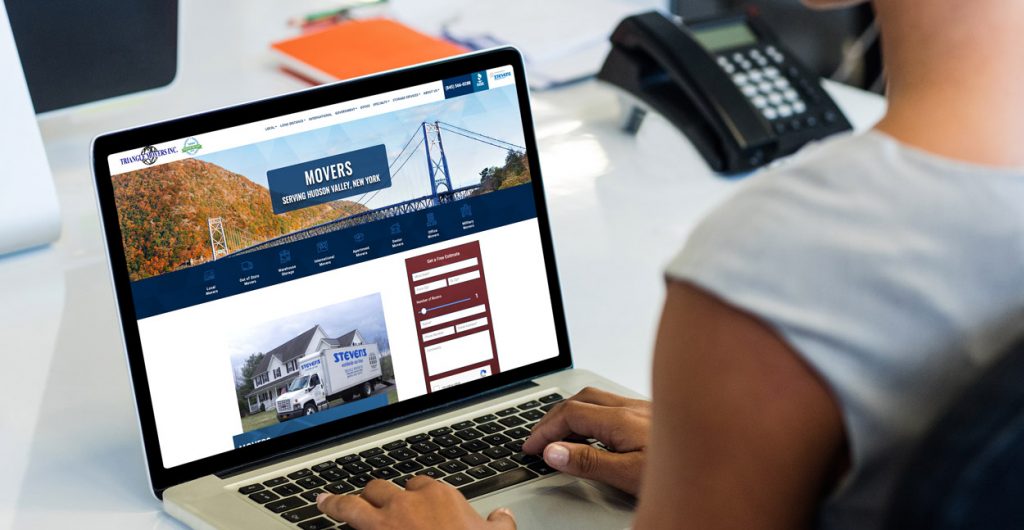 Page Layout: We'll set up your new Homepage to match our proven design while being customized to your branding, all within the parameters of your website builder.
Page Content: We will write content to appear on your new Homepage. This will be optimized for search engines and written for a great user experience.
Page Title & Meta Description: We'll optimize the Title Tag and Meta Description to help increase click-through rate.
Add Images: We'll add images from your photo collection or from the media kit of your van line if you have one.
Add Schema: Schema is a type of code to communicate directly with search engines for a variety of purposes. We'll add this code as applicable.
This one-off service gives you a great centerpiece for your website, allowing you the opportunity to get more users to your site and easily direct them right to request a quote or estimate.
Interior Site Optimization
For many moving companies, they are missing out on leads by having a "thin" website, meaning you don't have separate pages for different keywords. This severely limits your ability to get new traffic off of Google.
Our interior site optimization gives you pages optimized for search engines and based on your services, that help you get more traffic and more leads. Here are the details of this service:
Research Keywords: It's key to target the right keywords that people use when searching for a mover. We research the best keywords to target in your market and based on the services you offer.
Research Competitor's Pages on Page One of Google: We look at every detail of their pages to see what they're doing, or not doing, that needs to be implemented on your interior pages.
Research Popular Previous Searches: For each service that you offer, we look at what people are searching on Google related to those services. This is key to keyword research.
Write New Page: We'll write content for the page based on our in-depth research.
Post Page to Website: Once approved by you, we'll add the page to the site, including linking it in the appropriate places in the menu.
Add Schema Markup (As Appropriate): We will add the best schema to your pages, which is a type of code that relays valuable information to search engines.
The amount of pages you get is up to you, and can be tailored to your needs and budget.
Our Miscellaneous Services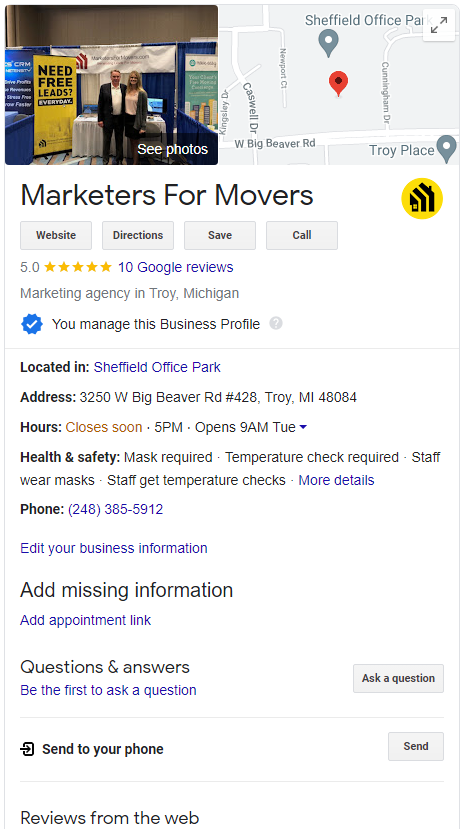 Need something else? We offer holistic services, which allows us to offer a wide range of services, including content, off-site SEO, and more technical help. These include:
Write Blog: We do blog writing, with separate options for different lengths, that helps you become a thought leader in the moving industry.
Google Business Profile Setup: If you look up your business name on Google, there should be a panel on the right side with a ton of information on you and a link to your website. If it isn't there, we help you get it set up. If it is there, we do a one-time optimization to help it perform better and get you more interest.
Title Tag & Meta Description Optimization: Title Tags and Meta Descriptions are what appear on Google. This is key to getting people to click on your site. We have a tried-and-true system for writing these that gets attention and that we can implement across your site.
IT Audit: Using our software and expertise, we do an in-depth dive into your site and clean up technical issues.
IT Fixes: For any specific technical issues on your site, our web developers can fix up your site for a customized quote.
Not sure exactly what you need? Don't be afraid to reach out. We'll be happy to help you pinpoint what the best service is to take your moving company to the next level.
Get Your Free Consultation
Marketers for Movers are the experts when it comes to search engine optimization and web design. We offer holistic optimization with the main goal of getting you more leads. If you aren't in a position yet to pay monthly for optimization or to pay for an entire website, you can still take advantage of our top-quality services with these options.
For those curious, we are happy to speak with you and discuss what the best option is for your moving company. Reach out to us at [phone] or fill out our online form to get in touch with us today.
If you're curious about where your site stands, you can request a Free Site Audit.